How To Get 2 Latinos Into The White House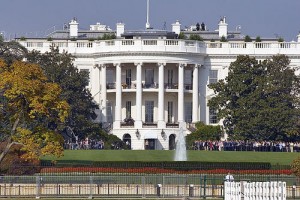 San Antonio, Texas — Bueno, those of us in the know already have decided that Julián Castro will be either the first Latino President of the United States or, at a minimum, the first legitimate, credible Latino presidential contender from one of the two major parties.
So, I got to thinking, we know Julián's future, but what of his twin brother Joaquín? Some recent wheelings and dealings in Texas strongly suggest that Joaquín could be on his way to Congress.
I presume that if Julián gets elected president, Joaquín will probably get to be White House Counsel or Attorney General or a Supreme Court Justice, o algo asi. Pero — and this is a big pero — he just can't jump from state representative to the White House, or "Big Show," without some experience in between. Again, I got to thinking (this always gets me into trouble but I can't help it), what kind of experience are we talking about here?
In political science we have a theory, amongst many, that some politicians are "cut out" to be executive-types and others legislative-types. The Castro brothers each seem to embody a set of characteristics in that one does well as an executive (Julián), while the other does well as a legislator (Joaquín); one's our mayor, the other our state representative.
Since we already know that Julián is going to be president, well, it only seems logical to conclude that Joaquín might make a good United States Representative or Senator. I mean, why not? It seems logical to me. The best opportunity right now appears to be for Joaquín to find himself a good United States Congressional District and run. Let's review some scenarios!
The four most logical are the 20th, 21st, 23rd and 28th districts that all have incumbents who do not wish to be challenged. For instance, 20th is a no-no because that one is held by Charlie Gonzalez; 21st is Republican and held by Lamar Smith; 23rd is contentious and held by Quico Conseco; and the 28th is held by the powerful Henry Cuellar.
This field is crowded and the only one who may draw opposition is Conseco, but everyone is waiting to see what the former seat holder, Ciro Rodriguez, will do before declaring. Protocol issues are delaying this and if one wishes to get a good campaign off the ground they got to act quickly.
With all the current districts being overcrowded there seems only one alternative for Joaquín and that is to be found in the new Congressional District 21, the redrawn Lloyd Doggett district. It seems that Republicans so dislike the Democratic Rep. Doggett that they redrew his district into Bexar County (that's San Antonio) from Travis County (that's Austin)!
I guess the Republicans think that anyone elected to that seat would be better than the liberal Doggett. Who knows? The Republican shenanigans, however, have created the perfect district for Joaquín to run in. All he has to do is wait and see if Doggett decides to run, or not, before making up his mind. Whatever the case, it does look like a great opportunity for Joaquín to get some much-needed experience before joining his brother at the White House.
Dr. Henry Flores is a professor of Political Science and Dean of the Graduate School at St. Mary's University, in San Antonio, Texas.
[Photo By
dcjohn
]