Texas Legislature Approves Voter ID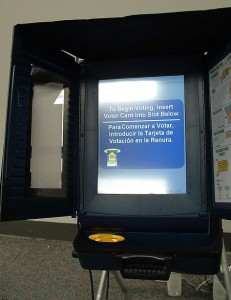 It's not like we didn't see this one coming. What with the Texas GOP reading population tea leaves, fighting for dear life in the redistricting process and seeing their waning popularity in the growing Latino community, they're going for broke.
The Republican dominated state legislature approved a voter ID bill that's all but a done-deal awaiting only Governor Rick Perry's signature to become law. Bloomberg reports that the signature is imminent:
Republican Governor Rick Perry plans to sign the measure tomorrow, according to an e-mailed statement today. The second most-populous state joins six others including Florida and Indiana that demand a photo ID from voters at the polls.
Sponsors of the law say it will combat voter fraud and increase voter participation. So lets look at each one separately.
In 2008 the Texas House Elections Committee met to hear testimony about voter fraud. Here's an excerpt from the official report:
A representative from the Office of the Attorney General (AG), Criminal Justice Division and Criminal Prosecution Division, offered testimony to the committee on factual historical data on voter fraud in Texas. Since mid-August of 2002, the AG has received 108 referrals for potential election code violations. Of those, 60% came from the Secretary of State's Office, 12% from local prosecutors, and the remainder from local election administrators. The investigations led to 22 prosecutions. Fifteen cases were fully adjudicated and seven are awaiting trial. Of the 22 prosecutions, 14 cases resulted from unlawful use of the mail-in ballot process, 1 case involved a campaign finance violation, 3 cases involved unlawful conduct at a polling place, and 4 cases involved other forms of non-compliance of the election code. One case involved two non-citizens voting in an election. Many of the referrals were not prosecuted because it was determined there were no election code violations.
One case, over a 6 year span, in the entire state of  Texas where people voted claiming to be someone they were not.
And what about the claim that voter ID will increase voter participation? That comes from the bill's sponsor, Rep. Patricia Harless, (R) Spring. According to the Bloomberg report she says that the law will "boost Texans' confidence in elections." Be my guest, read between the lines. Increase who's confidence? And why?
Already there are planned challenges to the law.
Opponents plan to challenge the measure in court, said Jim Harrington, director of the Texas Civil Rights Project. The Austin-based nonprofit group, which advocates on behalf of minorities, says the law is unconstitutional and aimed at making it harder for Latinos to vote. Republicans who dominate the Legislature say it will survive judicial review.
And then there is the matter of cost, that not too many people are talking about. When the state is strapped for cash and cuts are made to public education this bill adds spending at the county level. Voters who don't have an ID will be given provisional ballots. And according to Bexar County Elections Administrator Jacquelyn Callanen, who spoke to the San Antonio Express-News,
Those casting provisional ballots would add to the Election Department's workload after an election, and depending on the bill's final version, could require keeping offices open on weekends, Callanen said.
Texas Governor Rick Perry listed Voter ID and a ban on sanctuary cities as emergency items at the beginning of the state's legislative session. The budget and the state's educational system were not on his list of priorities.
Follow Victor Landa on Twitter: @vlanda
[Photo by 
joebeone
]