Mexican Hot Chocolate Ice Cream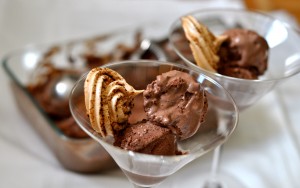 By Melissa Pitts
This rich and creamy ice cream takes inspiration from the softer Italian gelato. It has an intense chocolate flavor plus all the familiar flavors of Mexican hot chocolate: spicy chili and warm cinnamon. An added bonus here is to use the leftover egg whites and turn them into meringues. I especially like to crumble the meringues on top of the ice cream for an extra crunch.
Makes six servings.
Ingredients:
2 cups whole milk
5 egg yolks
1 cinnamon stick
1 teaspoon ground cinnamon
1 teaspoon chili powder
1 teaspoon cayenne pepper
2 tablespoons coffee (your leftover morning coffee works fine)
1 teaspoon vanilla extract
1/4 cup plus 2 tablespoons sugar
1 cup heavy cream
1011 11 ounces bittersweet chocolate melted (the better the quality, the richer the flavor)
Directions:
Bring milk, coffee, chili powder, cayenne pepper,cinnamon stick, and vanilla extract to a simmer (about 180 degrees if you have a candy thermometer, just be careful is doesn't boil). Meanwhile, combine egg yolks and sugar in the bowl of an electric mixer. Beat at medium-high speed until thick and pale yellow, 4 to 5 minutes.
To temper the egg yolks: add half the milk to egg-yolk mixture, and whisk until blended. Stir into remaining milk,and cook over low heat (again, careful not to boil), stirring constantly, until mixture is thick enough to coat the back of a spoon.
Remove from heat, and immediately stir in cream, discard cinnamon stick. Pass mixture through a strainer into a medium mixing bowl set in an ice bath. Whisk in melted chocolate, and let chill.
Freeze in an ice-cream maker according to manufacturer's instructions. Store in an airtight plastic container in the freezer for at least 30 minutes.
Cocoa Dusted Meringue Cookies:
This is just one way to use left over egg whites. This recipe requires only five egg whites, just the amount you'll have left over after making the Mexican Hot Chocolate Ice Cream recipe.
Makes two dozen cookies
Ingredients:
5 egg whites, room temperature
3/4 cup sugar
1/8 teaspoon cream of tartar
1 teaspoon pure vanilla extract
4 tablespoons cocoa powder
Directions:
Preheat oven to 225 degrees and line two baking sheets with parchment paper or Silpat if you have them.
In an electric mixer with the whisk attachment and whip: egg whites and cream of tartar on medium high speed. Slowly add the sugar, then the vanilla extract. Whip until stiff, glossy peaks form, about 10minutes.
Drop ¼ to ½ cup of the mixture onto the prepared baking sheets, about 2 inches apart. Dust the cocoa powder on the cookies. Bake for about 2 hours, rotating the sheets halfway through.
Note: The meringue mixture can also be placed in a pasty bag fitted with a plain tip (recommended: Ateco # 9808 or #5)and piped onto the baking sheet.
Flaming Tortillas is dedicated to bringing the best of Latin cuisine, culture, and food news to your kitchen table. It features what's in season right now,  favorite recipes from all over Latin America and fresh cultural Latin events around the country. Follow us on Twitter and get the latest news on Facebook.