Facebook, Sponsored Stories, Turns Your Life Into Money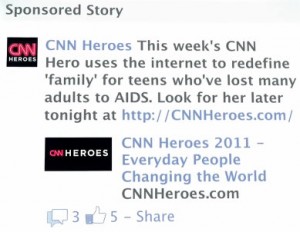 Facebook has found another way to make money off of you, and me, and its other 600 million-ish users for that matter. Check this out, Facebook's new "sponsored stories" takes things you do on your Facebook profile — from checking in with Places to Liking a page or sharing a story — and then turns it into an ad. This is brilliant for several reasons.
First, in this video Facebook is marketing the "sponsored stories" as something that isn't about advertising, but providing "information" to its users. In other words, they're making money off your preferences by creating ads for people who give them money (probably a lot of money, too, since this is a new type of ad) and telling you that it's because they want to help you.
Secondly, this is something Facebook already does, but now they're making money off of it. When you Like a Page it already appears in your feed, now all that Facebook is doing is taking that, slapping on "sponsored story" and photo to it and charging its ad buyers for that recommendation from your friend.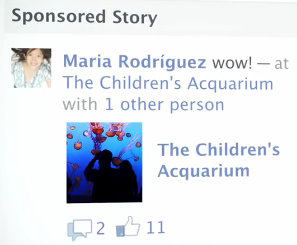 The example given is a friend goes to Starbucks, checks in with Places, then an ad appears on their friends' profiles from Starbucks. From that ad you can go directly to the Starbucks page, Like it, and create more buzz for Starbucks on Facebook. These sponsored stories only go to people who are already your friends and Facebook said in their video that these types of ads increased recall and the likelihood that you would recommend the ad sponsor to others.
So what do you think?
[Images Courtesy
Facebook
]