Chef Michael Recipe: POZOLE ROJO, for a cold day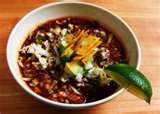 POZOLE ROJO
Ingredients
4 quarts canned hominy, drained and rinsed
3 pounds pigs' feet, well scrubbed and split lengthwise
2 pounds very meaty pork neck bones
1 ½ pounds lean, boneless pork shoulder, in a single piece
6 garlic cloves, minced
4 ancho chiles, stemmed, seeded, deveined
5 guajillo chiles, stemmed, seeded, deveined
1 tablespoon red wine vinegar
1 tablespoon salt
Garnishes:
half a head of cabbage, thinly sliced
9 radishes, thinly sliced
1 ½ cups white onion, small dice
1/3 cup dried Mexican oregano leaves
3 large limes cut into wedges
5 serrano chiles, seeded and minced
12 crisp-fried corn tortillas
Measure 7 quarts of water into a large stock pot. And add the pigs' feet, neck bones, and
shoulder along with the garlic and hominy. Bring to a simmer.
In the mean time tear the chiles into flat strips and toast them, a few at a time, on a comal over a medium heat, using a spatula to press them firmly the hot surface until they blister and crackle, then flipping them over and pressing down again. Remove to a bowl, cover with boiling water and the red wine vinegar, weight down with a plate and keep them submerged for 30 minutes. When the 30 minutes are up remove the chiles to the bowl of a blender, and a half cup of the water they were soaking in and purée until smooth. Add to the simmering soup and stir well. Add the salt and let simmer for two hours.
To finish the soup, remove the pigs' feet and neck bones, and the pork shoulder. When it's all cool enough to handle remove and discard the cartilage and bones, then chop what remains into 1-inch pieces. Roughly shred all of the meat.
Just before serving taste the soup and re-season with salt if necessary. Add the meat to the pot and let simmer a few minutes to reheat.
Ladle the soup into large bowls and top with a bit of shredded cabbage and sliced radish. Allow each guest to finish up their soup according to their own taste. The tostadas provide a crunch  accompaniment to enjoy between spoonfuls of soup.
Recipe Created by chef Michael Flores • ©2007 Mis En Place, LLC
Tracey Maurer
] [Food styling by
Mary Ellen Rose
]
Chef Michael has taken a childhood passion for cooking and turned it into an evolving lifelong profession in the culinary arts. Today he is a renowned chef, author, and television personality with an impressive food product line. Despite his formal training at the Culinary Institute of America, Michael focuses on providing simple solutions for encouraging families to get back to the table. More than a gourmet, he's a creator and innovator, a man who is using his talent to give back to the community and to spread the philosophy of fine food and healthy living across the continent.
Since early childhood he has honed his cooking skills and tasting talents, taking both to new heights through formal training and endless experimentation. While attending the prestigious Culinary Institute of America in Hyde Park, NY, Michael worked as chef-intern to Chef Susan Spicer of New Orleans' acclaimed Bayona. Upon graduating with honors from the CIA, Michael returned to San Antonio to begin his career, infusing every dish he creates with his love of the multicultural richness that has so influenced his life.