50,000 Dead Since 2006 In Mexico's Drug War?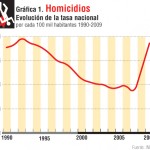 According to some Mexican reports, the death tally in Mexico that has followed President Felipe Calderón's "drug war" begun in 2006 may surpass 50,000. This article says the total from 2008 to 2009 is 47,000 and not 30,000 that has been reported. That's just two years, what about the deaths in 2006, 2007 and 2010? Staggering. Another in-depth report goes even further into the numbers.
As you can see from the above graphic and as author Fernando Escalante Gonzalbo points out, 2009 was the most violent year in Mexico's history. But Gonzalbo says he doesn't buy the official explanation for this jump as just being the drug war alone. What he says is, "Y la lógica dice que el movimiento tiene que ver con el despliegue de tropas y policía federal," or in English, "And logic tells us that this movement (of numbers) has to do with the deployment of troops and federal police."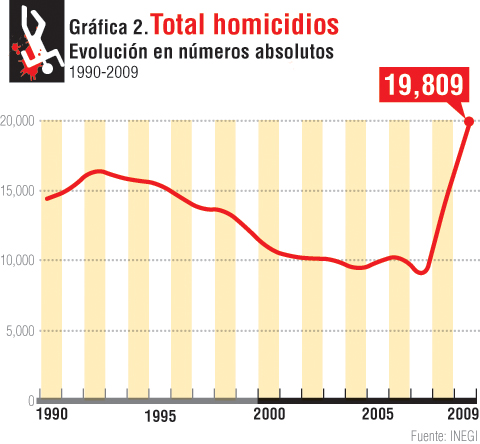 Which is to say, Gonzalbo is blaming Calderón's drug war for the increase in deaths after an excruciatingly in-depth analysis of the numbers.
But it's not the drug war in and of itself, but rather, the sudden change in the way the law is applied in Mexico. In his words, "Mi impresión es que en los últimos años, en el empeño de imponer el cumplimiento de la ley, en el empeño de imponer el Estado de derecho a la mala, desde el ejecutivo federal, se han roto los acuerdos del orden local y cada quien tiene que proteger lo suyo de mala manera," or, "My impression is that in the past few years, in efforts to enforce the law, in the effort to take the State from bad to worse from the executive level, the local agreements of order were broken and every one has to protect themselves in the worst way."
[Images courtesy
Nexos
]