New DREAM Act Language Released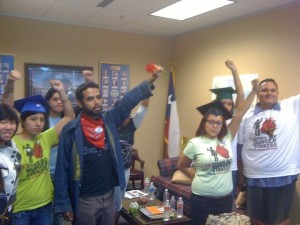 Michael Olivas, professor from the University of Houston Law School, recently posted information about the DREAM Act's new designation in the Senate now that Majority Leader Harry Reid, D-Nevada, said he'd bring the bill up for a vote.
Check out a few highlights from the new bill:
Creates conditional nonimmigrant status for 10 years
Followed by 3 years of legal permanent resident status prior to application for naturalization
Authorized to be employed
May travel outside the U.S.
Treated as lawfully present except for purposes of eligibility for health care
Eliminates repeal of in-state tuition ban
Must show good moral character since time of entry into the country (rather than date of enactment)
Lower age cap from 34 to 29
Requires selective service registration
Good moral character
Cannot have been absent from the US for a total of more than 365 days during the conditional status
Must pay back taxes
Click here for more information, the full text of the bill and more.
[Photo Courtesy Ricardo Briones]