UPDATE: All San Anto DREAMers Released
UPDATE: All the DREAMers from San Anto, but for Rev. Lorenza Andrade Smith who continues her protest in jail, have been released. Everyone else has been charged with Class B criminal trespassing, according to their attorney Ricardo Briones, and will have court dates in January.
Just got off the phone with University of Texas at San Antonio student and DREAM Act hunger striker Lucy Martinez, 19. She's been on a hunger strike for 21 days. Thirteen of the 16 DREAMers arrested last night in San Antonio, Texas have been released as of now. Three remain, two are set to be released soon, and the last person, Rev. Lorenza Andrade Smith, chose to stay incarcerated until either the DREAM Act is passed or Sen. Kay Bailey Hutchison agrees to a short phone call with the DREAMers.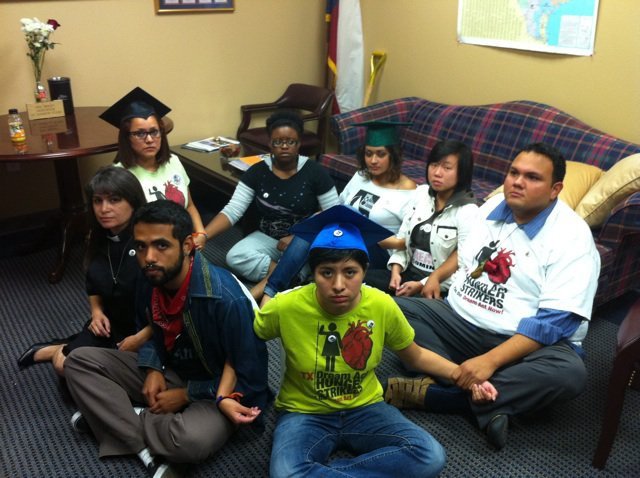 [Lucy Martinez is in the front with the green shirt; Rev. Andrade Smith is on the left with the collar.]
Martinez was sitting inside the office during yesterday's sit-in, waiting for that phone call from Sen. Hutchison, and at about 9 pm the police were summoned, she said. One of the hunger strikers so far is having health issues.
"If the DREAM Act doesn't pass, we have nothing," Martinez told NewsTaco. "We all have finals and a lot of papers due, but it's important we keep going with the DREAM Act because what's the point of getting a degree if you can't do anything with it?"
[Photo Courtesy
Luciana Martinez
]